Sweet Fara/Sweet Pittha Recipe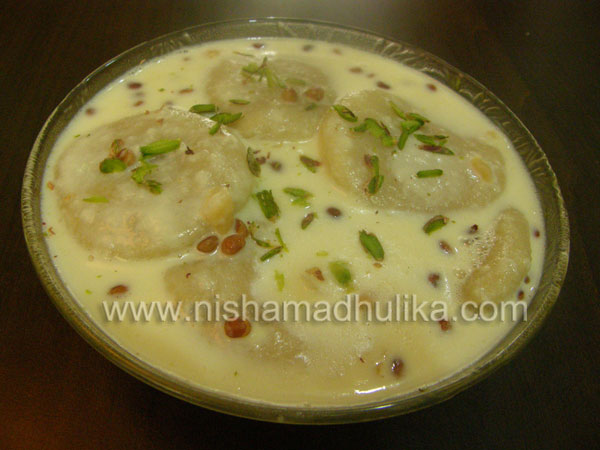 You will definitely like the traditional taste of Sweet Fara/Sweet Pittha. So let us prepare it ourselves.
While wheat flour, Suji, rice or these mixed together is required to make Namkeen Fara Pittha and it is filled with lentils or vegetables, Sweet Fara/Sweet Pittha is made solely from rice flour and is filled with Mawa(dried milk) and dry fruits.
हिन्दी में पढिये : Sweet Fara/Sweet Pittha Recipe
- Ingredients for Sweet Fara
To make Dough :
Rice  flour - 200 grams(1 cup)
Mawa(dried milk) -  100 grams (1/2 cup)
Sugar - 1 tbsp (powdered)
Cashew nuts - 8 to 10 (cut into small pieces)
Raisins -  20 to 25 (cut 1 raisin into 2 halves)
To put in milk :
Milk - 1 litre (full cream)
Sugar - 75 grams (1/3 cup)
Cashew nuts -  10 (cut 1 nut into 6-7 pieces)
Raisins - 15 to 16 (break the stems and wash)
Elaichi(cardamom) - 3 to 4 (peel and crush)
- How to make sweet Fara Recipe
Get rice flour from the market or make it at home, to make rice flour at home use small rice grains. Clean, wash then soak rice in water for 4-5 hours. Remove water from rice and place grains on a clean cotton cloth to dry(rice grains dry in about 2 hours). Put the dried rice grains in the mixer and grind to make flour.
Take water in a utensil double the amount of rice and place to heat. Once steam comes form the water, turn off the gas. Put rice flour in this water then cover the utensil and keep it aside for 2-3 minutes. Open the lid, first use a spoon then your hand to press the flour and make it soft. If needed then you can add some water(rice flour should be kneaded softer than that of  a chapati so that Pitthi can be filled easily).
To make Pitthi put Mawa in the pan and gently fry till it turns light pink. After it cools mix sugar and dry fruits in it. Pitthi is ready to be stuffed.
Pour milk in a thick based utensil and place on the gas to heat. Till the milk comes to boil let us prepare the stuff the Pitthi.



Break off small pieces from the ;rice dough(20-25). Press the piece gently with your habd to expand it a bit, place 1 tsp of Pitthi(stuffing) on it and wrap the the piece form all sides similar to a Kachori. Now press the Kachori a little to expand it in a round circle and place it on a plate. Make Kachoris (stuffed with Pitthi) with all the pieces and keep them on a plate.
Milk has now come to boil, stuffed Pitths are ready so put them one at a time in boiling milk then after the milk comes to boil again, allow the Pittha to boil for 15 minutes. Turn over the Milk-Pitthis regularly as you stir them. Milk-Pittha should not stick to the base of the pan. Turn off the gas, take out Pittha with a ladle and keep it on a plate.
Put sugar and dry fruits in the leftover milk, after sugar melts completely and milk turns thick turn off the gas. Put crushed Elaichi in milk and mix and put the Pitthas again in this milk. Sweet Pittha, sweet as Rasmalai is ready. Serve Sweet Fara - Sweet Gojha hot and eat...!

Tags
Categories
Sweet Fara/Sweet Pittha Recipe
Nisha Madhulika
Rating:

5.00

out of

5