Grated Mango Pickle/Mango Thokku Pickle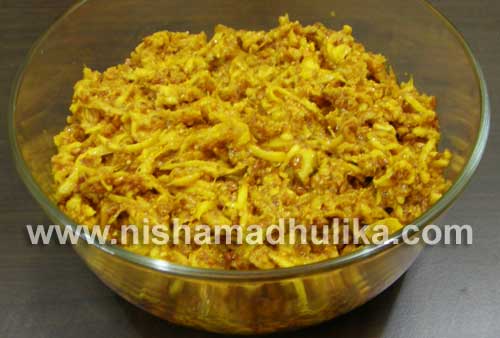 Being the king of fruits mango is also a favourite choice for preparing pickles. All types of pickles have their own importance and taste. Grated Mango Pickle made with whole spices has its own distinct flavour.
It almost takes 1 week to prepare Mango Pickle, Mango Murabba, Mango Salona Pickle etc, but Grated Mango Pickle/Mango Thokku Pickle an be eaten the very next day it is prepared. So let us prepare this pickle.
हिन्दी में पढिये - Grated Mango Pickle/Mango Thokku Pickle
- Ingredients for Grated Mango Pickle/Mango Thokku Pickle
Mangoes(unripe) - 7-8 (1 kg)
Mustard oil - 250 grams(1 1/4 cup)
Methi(fenugreek) seeds - 2 tbsp
Jeera(cumin seeds) - 1 tbsp
Yellow mustard - 1 tbsp
Heeng(asafoetida) - as much as one pea seed
Turmeric powder - 2 tsp
Red chilly powder- 1 tsp
Salt - 100 grams (3 tbsp)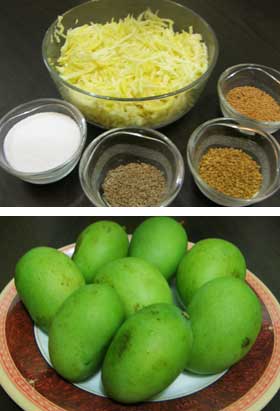 - How to make Grated Mango Pickle/Mango Thokku Pickle
Get good mangoes from the market with more of flesh. Wash the mangoes with clean water then dry them. Peel the mangoes, cut its flesh into big pieces and grate using a food processor or grate manually. Mangoes are ready to be made into Laccha.
Clean all the spices, pour 1 tbsp oil in a small frying pan and heat. Put 1 tbsp Methi seeds followed by Jeera into hot oil and fry till they turn light brown. Mix fried Methi seeds, Jeera with mustard, Heeng, salt and crush into a fine powder.
Pour oil in a frying pan and heat, turn off the gas. Put the remaining 1 tbsp Methi seeds in the pan and fry gently. Now add turmeric powder then put the grated mangoes, crushed spices, red chilly powder and mix all these together with a spoon.
Mango Laccha is ready. You can have this pickle right away or after 2 days when its taste gets more better. Fill the pickle in a clean and dry container. Whenever you want, take out some pickle and eat with parantha, chapati or dal-rice.
This Grated Mango Pickle can be stored up to 1 year, if you feel the oil content is less then add mustard oil enough to submerge the pickle. Heat oil then cool it, put it in the container with pickle.
Grated Mango Pickle/Mango Thokku Pickle video in Hindi


Tags
Categories
Grated Mango Pickle/Mango Thokku Pickle
Nisha Madhulika
Rating:

5.00

out of

5