Rajsthani Dubki Kadhi or Pani Pakodi Recipe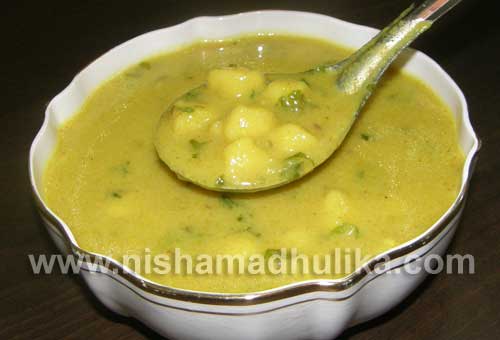 Dubki Kadhi or Pani Pakodi prepared from Moong dal,Urad dal or Chana dal is a very delicious dish.
Dubki Kadhi  is mostly made in Rajasthan and Agra. When fresh vegetables are not available then Dal and Besan act as its substitutes. Traditionally this dish is called Dubki but we can also call it Pani Pakodi as  the pakoras are boiled in water instead of oil. Preapring this dish does not even consume much time, so let us make this dish today.
हिन्दी में पढिये : Rajsthani Dubki Kadhi or Pani Pakodi Recipe
- Ingredients for Dubaki Kadhi
Moong dal - 100 grams or 1/2 cup
Oil - 1 to 2 tbsp
Heeng(asafoetida) - 2 pinch
Jeera(cumin) - 1/2 tsp
Turmeric powder - 1/4 tsp
Coriander(dhaniya) powder - 1 tsp
Green chilli - 2/3
Salt - add to taste(3/4 tsp)
Red chilli powder - 1/4 tsp
Garam masala - 1/4 tsp
Green coriander(dhaniya) - 1 tbsp(finely chopped)
- How to make Rajsthani Dubki Kadhi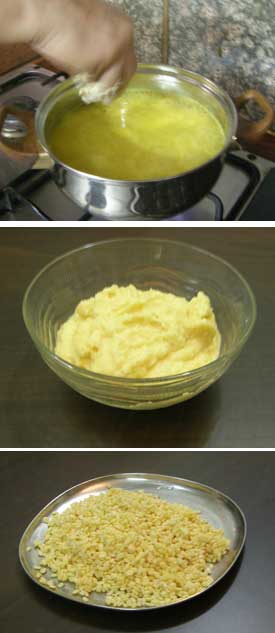 Clean, wash and soak Moong dal in water for 4-5 hours.
Once dal ferments remove excess water from it, grind dal to a coarse paste and put it in a large utensil. Do not make a fine paste of the dal leave it a little coarse so that we get the original flavor of Dubki or Pani Pakodi.
Put in 1/4 tsp salt to the paste and beat properly. The paste is ready to prepare Dal Pakodi.
Pour 1/2 cup water in the mixer's jar used to grind dal which will now dissolve in the water. We will use this water to put in the dish.
Finely chop green chilli, similary chop ginger and make a paste of the two.
Pour oil in a pan(kadhai) and heat then put Heeng, and Jeera in hot oil. After Jeera is roasted add turmeric powder, green chilli-ginger paste and fry. Now pour the jar's water into these spices, take at least 4 cups of water.
Once the water comes to boil, make small Pakodis of dal with your hands and put them in boiling water. One by one make Pakodis  till Dal paste is over and for the paste stuck on the bowl pour water in it, this water can be added to the boiling Pakodis.
If you wish to put curd in this dish then you can add 1/2 cup curd(beat it first) right now and stir till it comes to boil. Also add salt and red chilli powder. Allow to cook for 15 minutes on a medium flame.
Dubki or Pani Pakodi is ready, put Garam masala and 1/2 tbsp green coriander then mix well. Take out Pani Pakodi in a bowl and garnish with chopped coriander. Serve steaming hot Pani Pakoda with Naan, Chapati or rice and enjoy.
You can also prepare the dish in this way - Put Tadka on dish after it is cooked.
Put Dal water to boil in the beginning itself and when water is boiling put Dal Pakodas in it. Add curd, turmeric powder, red chilli powder and salt. Allow the dish to cook then take off from the gas. Now prepare Tadka and mix with the Pakodas. Spices of Tadka floating over Pani Pakoda  look very tempting.
Serves - 4
Cooking - 45 minutes
Rajsthani Dubki Kadhi or Pani Pakodi Recipe video in Hindi


Tags
Categories
Rajsthani Dubki Kadhi or Pani Pakodi Recipe
Nisha Madhulika
Rating:

5.00

out of

5