Kachnar Kali Recipe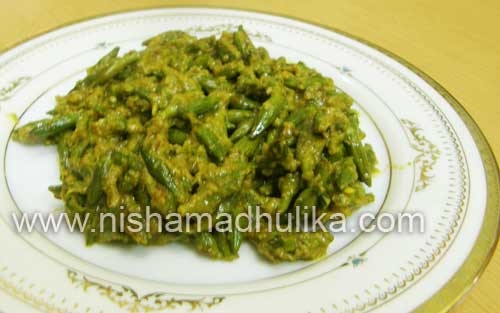 Kachnar ki Kali/Kachnar buds are available in the market during this season. Whenever you go to the market do get Kachnar buds and make its dish. It is a delicious vegetable. You would need closed buds to prepare its dish. So today we will  prepare a dish with Kachnar buds(Variegated Bauhinia Buds).
हिन्दी में पढिये : Kachnar Kali Recipe 
- Ingredients for Kachnar Kali Recipe
Kachnar buds (Bauhinia Variegated Buds) - 200 grams
Green chillies - 2 to 3
Ginger - 1 inch long piece
Oil - 2 tbsp
Heeng(asafoetida) - 1 pinch
Jeera(cumin seeds) - 1/2 tsp
Turmeric powder - 1/4 tsp
Coriander(dhaniya) - 2 tsp
Salt - add to taste ( 1/2 tsp)
Red chilly powder - less than 1/4 tsp
Amchur(mango) powder - 1/2 tsp
Garam masala - less than 1/4 tsp
Green coriander - 1tbsp(finely chopped)
How to make Kachnar Kali
Clean Kachnar buds, break the fat stems and remove them from the buds. Wash these buds 2-3 times with clean water.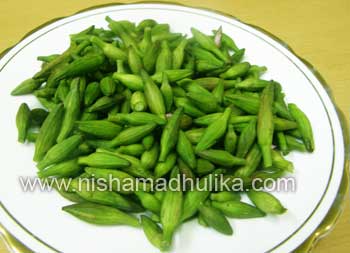 Take 2 cups of water(or enough to easily submerege the buds) in a utensil and place it on the gas to boil. Add 1/2 tsp salt to the water. After the water starts to boil put the Kachnar buds in it and when the water again comes to boil let it boil for another 3-4 minutes. Turn off the gas, drain out the water and let the buds cool off.
Break off the stems of the green chillies, wash then finely chop them. Peel, wash and grate ginger then make its paste.
Pour oil in a frying pan(kadhai) and heat, put Heeng and Jeera in hot oil. Once the Jeera is roasted add turmeric powder, coriander powder, finely chopped chillies, ginger paste and gently fry. Put 2 tbsp water, red chilly powder, Amchur powder, salt and also garam masala. Fry all these spices till the spices seem to have a granular texture or oil starts to float over them. Now put the boiled Kachnar buds and green coriander, cook for 3-4 minutes.Turn off the gas, keep the vegetable covered for 4-5 minutes.
Delicious Kachnar ki Kali is ready. Serve with puri, parantha or chapati.
Serves - 4
Cooking time - 20 minutes

Tags
Categories
Kachnar Kali Recipe
Nisha Madhulika
Rating:

5.00

out of

5