Matar Kofta Curry Recipe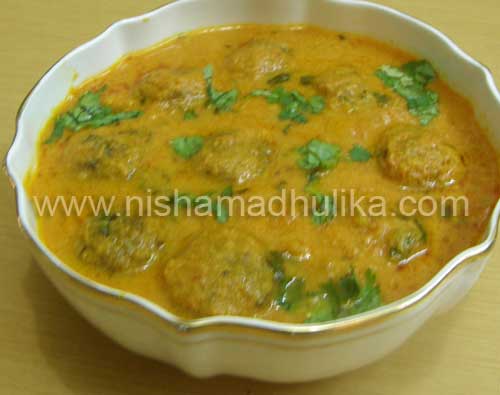 Most people like pea curry. You surely make Aloo matar, Matar ka jhol, Matar fry, for those who want to make something different here's Green Peas(Matar) Kofta Curry recipe which is very tasty. So let us prepare Matar Kofta curry today.
हिन्दी में पढिये : Matar Kofta Curry Recipe
Ingredients for Matar Kofta Curry
For Koftas
Green peas(matar) - 500 grams (1 cup peeled)

Potatoes - 2

Arrowroot/ gram flour -  1 tbsp

Green chillies - 1 to 2 (finely chopped)

Ginger - 1 inch long piece (grated)

Salt - Add to taste( 1/2 tsp)

To make Tari

Tomatoes - 3 (medium sized)

Green chillies - 2

Ginger - 1 inch long piece

Oil/Ghee - 1 to 2 tbsp

Jeera(cumin seeds) -  1/2 tsp

Turmeric powder - 1/4 tsp

Coriander(dhaniya) powder - 1 tsp

Cream/malai - 2 tbsp

Red chilly powder - 1/6 tsp

Garam masala - less than 1/4 tsp

Salt - add to taste(3/4 tsp)

Green corinader -  2 tbsp (finely chopped)

Oil - to fry Koftas
How to make Matar Kofte Curry
Wash peas and boil the. Boil the potatoes, peel and mash them. Gind th eboiled peas to make a granular paste. Mix pea paste, potatoes, gram flour, salt, green chilli, ginger properly together. Mixture needed to make Koftas is ready.
Take a little amount from the mixture, shape them into round balls(lemon sized).
Pour oil in a heavy based pan(kadhai) and heat. (To test if the oil has heated: break a piece from the dough and put it in oil, if oil is hot the piece will immediately rise up to the surface else it will sink to the bottom). .Put 4-5 Koftas in hot oil and fry till they turn brown then keep the fried Koftas on a plate. Put the other Koftas in oil and take them out after frying. Repeat the process till you have fried all of the Koftas. Koftas are ready.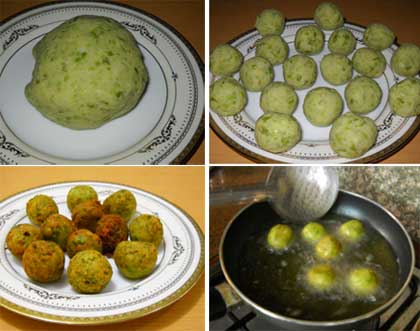 Prepare Gravy-
Make a fine paste of the tomatoes, green chillies and ginger.
Pour oil in a frying pan(kadhai) and heat, put Jeera, turmeric powder and coriander powder in hot oil. Fry the spices till they seem granular in texture or oil starts to float over them.
Now add cream(malai) to the spices and fry for 2 minutes. Pour water according to how thick or thin you want the Tari. Put salt to taste, red chilly powder and garam masala. After water comes to boil cook Tari for another 2-3 minutes. Vegetable Tari is ready. Turn off the gas, put in the Koftas you have prepared and cover the pan and keep for 2 minutes. Matar Kofta curry is ready, take it out in a bowl and garnish with green coriander. Serve hot Matar Kofta curry with parantha, chapati, naan or rice.
You can make the Matar Koftas without the potatoes. Gently boil the peas, make a coarse paste, mix the pea paste with gram flour and your mixture is ready. Make Koftas in the above given manner followed by the curry.
(For Tari with onion and garlic: Make a paste of tomatoes, green chilly, 2-3 cloves of garlic(peeled) and onion(chopped). Fry the spices as instructed earlier and prepare vegetable Tari).
Serves - 4
Cooking time - 40 minutes

Tags
Categories
Matar Kofta Curry Recipe
Nisha Madhulika
Rating:

5.00

out of

5