Moong Badi Recipe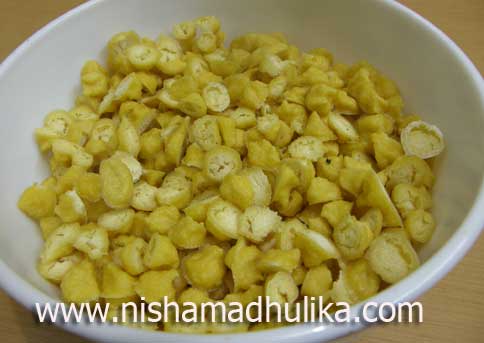 Earlier Dal badi was made at home as Badiya was not available in the market, even if it was available it was expensive and only found in some stores. Their quality was not even good unlike the homemade Badiya, but these days many organisations run by women supply us with Badiya, Potato chips and Papad.)
Here we are preparing Moong Dal Badiya, all other types of Badi are made almost in this same manner. You should take ingredients according to your taste like Urad Dal Masala Badi, Chana Dal badi can be prepared by adding bottle gourd(lauki) or winter melon. You can make big or small Badiya according to your wish.
Small sized Badiya dry up very fast, bigger sized Badiya take longer to dry but can be broken quickly while smaller Badiya take a long time.
Badi is prepared using Moong Dal with or without peels. Moong Dal with peels taste much better but that does not mean that dal without peel taste any less. Here we are making Badiya with Moong dal without peels.
हिन्दी में पढिये : Moong Badi Recipe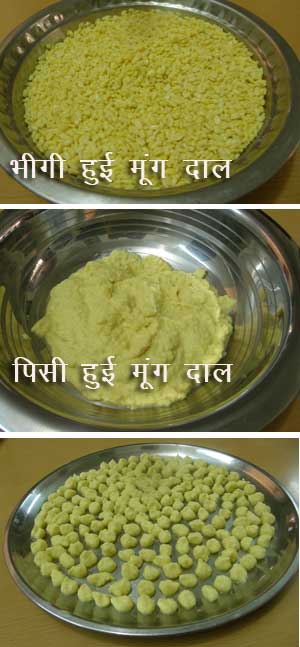 -Ingredients for Moong Dal Badi
Moong dal - 200 grams (1 cup)
Oil - 2 tsp
Plates - 2 to 3
- How to make Moong dal Badi
Clean dal, wash with clean water then soak in drinking water for 2-3 hours. Remove the water and make a coarse paste of the dal without adding any extra water. A very fine paste makes Badi very hard.
Take out dal paste in a utensil, beat rigorously, the mix is ready to make Dal Badi.
Grease clean-dry plates with oil. Take dal mixture in your hand, in the same way you would take besan or dal paste while making Pakoras. Drop some paste on the plate a little at a time. You need to practice making Badiyas at equal gaps, there is no change in taste if Badiya are small or big in size. Mak as many Badiya that will fit in 1 plate, after 1 plate is filled break Badiya for another plate. Make Badiya till the entire paste is used up, then place these plates out in the sun.
If the sun's heat is strong then the Badiya made in the morning will dry up to a certain extent by evening(Badiya are made in the morning itself so that they can dry in the sun the entire day). Once Badiya dry up, it becomes very easy to remove them from the plate, you can put them in the same plate and dry them the next day as well.
Moong Dal Badiya are dried and ready. Fill them in a clean and dry container. Whever you wish up to 6 months, take out as many Badiya required from the container and make its dish.
Note
Dry Badiya properly before filling them in the container, else they will get spoilt.
If dal is soaked for a very long time then Badiya do not taste good.
Moong Dal Mangodi Recipe video in Hindi


Tags
Categories
Moong Badi Recipe
Nisha Madhulika
Rating:

5.00

out of

5