Sagpaita/Shakpaita Recipe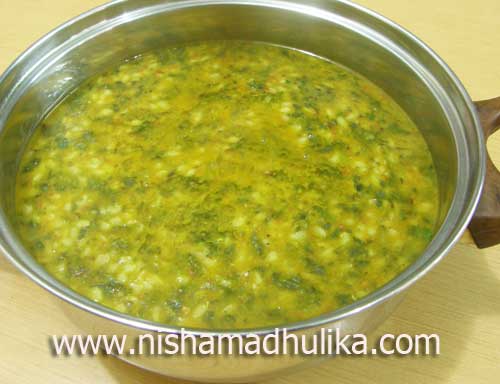 Shakpaita is a famous traditional dish of northern India. It is prepared from green vegetables and dal mixed together. Shakpaita is mostly eaten with Makke ki roti, Bajre ki roti or Missi roti etc.
You can use your favourite dal and vegetable to make Shakpaita, like urad dal, moong dal, arhar dal, masoor dal, and chana dal. And vegetables like chana bhaji, mathi, bathua, spinach, poi or chaulai any of them. Today we will prepare Shakpaita using Urad dal and Bathua(White goose-foot).
हिन्दी में पढिये : Sagpaita/Shakpaita Recipe In English 
- Ingredients for Shakpaita
Urad dal - 200 grams( 1 cup)
Bathua - 250 grams ( 1 cup finely chopped)
Salt - add to taste (1 tsp)
Ghee/oil - 1 to 2 tbsp
Heeng(asafoetida) - 1 to 2 pinch
Jeera(cumin seeds) - 1/2 tsp
Turmeric powder - 1/4 tsp
Tomatoes - 2 to 3
Green chillies - 2 to 4
Ginger - 1 inch long piece
Red chilly powder - 1/4 tsp
Garam masala - 1/4 tsp
Green coriander - 1 tbsp finely chopped(if you want)
How to make Shakpaita: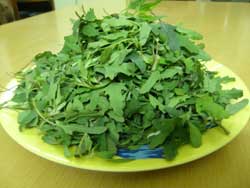 Clean, wash dal then soak in water for 1 hour.
Clean Bathua leaves, remove the fat stems and wash the leaves twice with clean water. Place Bathua leaves vertically on a plate to drain excess water, finely chop these leaves.
Put 3 cups of water and salt to the dal and chopped Bathua leaves then put it on the gas to cook. After 1 whistle goes off lower the flame and let the dal cook for another 2-3 minutes. Turn off the gas. Allow all of the pressure to escape from the cooker then open it.
Grind tomatoes green chillies and ginger to make a fine paste(you can also chop the ginger into small pieces).
Pour Ghee in a frying pan(kadhai) and heat, put Heeng and Jeera in hot Ghee. After Jeera is roasted(keep a low flame) add turmeric powder, tomato-green chilly paste, ginger and fry till the spices seem granular. Put red chilly powder to the fried spices and mix.
Check the amount of water in the dal and if it seems thick enough for you then add the fried spices to it and mix. If you want to make the dal thin then add water accordingly to the spices and cook till it comes to boil. Also add salt according to taste, put garam masala and mix. Urad dal and Bathua Shakpaita is ready.
Take out Shakpaita in a bowl, garnish with coriander. Serve hot Urad dal and Bathua Shakpaita with bajra ki roti, makke ki roti, missi roti or rice.
Serves - 4
Cooking time - 40 minutes

Tags
Categories
Sagpaita/Shakpaita Recipe
Nisha Madhulika
Rating:

5.00

out of

5