Methi Matar Malai recipe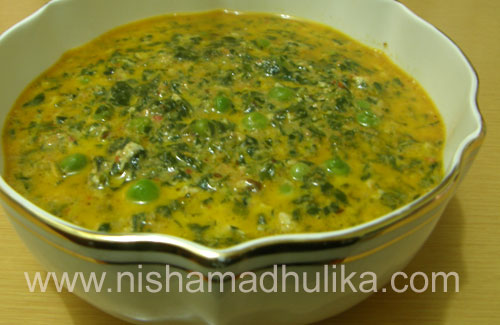 As the cold starts to set in Methi also begins to be available in the market. There are 2 types of Methi: one with small leaves and the other with big leaves. In comparison to Methi with big leaves the ones with bit smaller leaves are much better in smell and taste.
Methi/Green fenugreek is used to make Methi ke paranthe, Methi Poori, Methi Pulao other than just curries. But the unique taste of Methi Matar Malai Curry can be known only when you eat it. So let us prepare Methi Matar Malai Curry.
- Ingredients for Methi Matar Malai recipe
Green Methi - 200 grams (1 cup finely chopped)
Green peas - 1/2 cup
Cream - 1/2 cup
Ghee/oil - 1 to 2 tbsp
Jeera(cumin seeds)/ Jeera powder - 1/2 tsp
Coriander (dhaniya) powder - 1 tsp
Tomatoes - 2
Sugar - 1/4 tsp
Ginger - 1 inch long piece
Green chilies - 2
Salt - add to taste (3/4 tsp)
Garam masala - less than 1/4 tsp
- How to cook methi matar malai recipe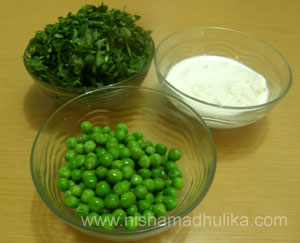 Break the stems off the Methi leaves and was twice with clean water. Place it vertically on a plate to drain out remaining water. Finely chop these washed leaves.
Peel fresh peas or Safal peas and wash them.
Wash then cut tomatoes, break the stems of the green chilies. Peel, wash and cut ginger. Make a fine paste of these ingredients.
Put the chopped Methi leaves, peas and 1/2 cup water in a utensil and keep it on the gas to boil. Once the water comes to boil, cook on a low flame for 5 minutes.
Pour oil in a pan and heat, put Jeera in hot oil. After Jeera is roasted add coriander powder and the grounded spices. Fry till spices seem granular, then put the cream and fry for another 2-3 minutes. Mix the boiled Methi and peas, put salt, sugar and Garam masala then stir. Pour water according to how thick or thin you want the curry. Cook till water comes to boil. Methi Matar Malai Curry is ready.
Take out the curry in a bowl. Serve hot Methi Matar Malai Curry with naan, chapati, parantha or rice.
Cooking time : 25 minutes
Serves - 4
Methi Matar Malai recipe video in Hindi


Tags
Categories
Methi Matar Malai recipe
Nisha Madhulika
Rating:

5.00

out of

5