Pakora in CapsicumGravy Recipe - Pakora Shimla Mirch Tari Recipe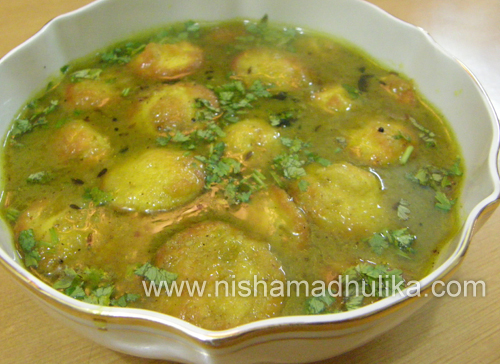 If you eat food without oil or lees oil then nonstick Appam maker is a very useful tool. This year the best thing we bought for our kitchen is this Non Stick Appam Maker.
Using this we prepared koftas of gourd, banana and cheese which did not need any oil and was better than the usual taste of Gourd Kofta Curry, Banana Kofta Curry or Cheese Kofta Curry.  We can also prepare good mini Idlis in this maker which taste different than the normal Idlis as the outer layers of these mini Idlis are more crisper. If you do not use non stick Appam maker then do buy one. This is mainly used in south India but these days it is found almost everywhere.
This week we made Capsicum Chilly Pakora Tari/Shimla Mirch ke Tari pakore which was liked by everyone at home. If you are not using Appam maker then you can fry the pakoras in oil.
हिन्दी में पढिये : Capsicum Chilly Pakora Tari/Pakora Shimla Mirch Tari Recipe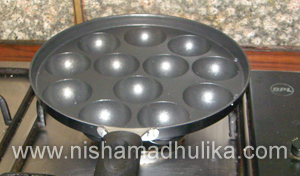 - Ingredients for Pakoda Shimla Mirch Tari Recipe
To make Pakoras:
Gram flour- 100 grams(1/2 cup)
Salt - 1/4 tsp
Coriander powder - 1/2 tsp
Eno salt - 1/4 tsp
For Gravy:
Capsicum - 250 grams (3-4 medium sized)
Tomatoes - 2 to 3 medium sized
Green chilly's  - 2 to 4
Ginger  -  1/2 inch long piece
Oil - 2 to 4 tbsp
Heeng(asafoetida) - 1 pinch
Jeera - 1 tsp
Black pepper - 10
Clove - 4
Elaichi(cardamom) - 2
Turmeric powder - 1/4 tsp
Coriander (dhaniya) powder  - 1 tsp
Cream/malai - 2 tbsp (if you want)
Red chilly powder - less than 1/4 tsp
Salt - add to taste(3/4 tsp)
Green coriander - 1 tbsp (finely chopped)
- How to make Pakoda Shimla Mirch Tari Recipe
Filter gram flour and keep it in any utensil. Pour water in the flour then add salt and coriander followed by eno salt and mix well. Mixture for Pakoras is ready.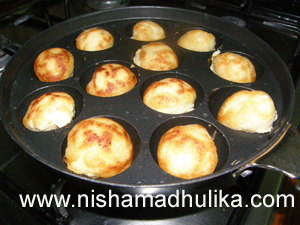 Place Appam maker on the gas and heat, in every mold put 1/4 tsp oil or just grease the molds with oil. Using a spoon fill all the molds with the gram flour mixture, Pakoras will  get puffed in some time. When the lower layer of Pakora turns brown overturn it with a spoon and let the other side become brown. The Pakoras are cooked, take them out on the plate and repeat process with the remaining mixture. Pakoras are ready, let's prepare the Tari.
Wash  capsicums and cut into big pieces, remove the stem and seeds.
Cut tomatoes, green chilly's and ginger into big pieces.
Pour 2 tbsp oil in the pan(kadhai) and heat, put Heeng aand Jeera in hot oil. Once Jeera is fried lower the flame then put black pepper, clove, Elaichi and fry gently. Put turmeric and coriander powder followed by capsicum pieces, fry for 2 minutes. Also add tomatoes, ginger and green chilly's then mix. Stir fry for 2-3 minutes till tomatoes turn soft.
Allow the spices to cool then make it into a paste with chilly.
Put the grounded spices back in the pan, mix cream and stir fry for 3-4 minutes.Add water and salt according to your requirement. After water comes to boil cook for anothre 3-4 minutes, Tari is ready.
Put the Pakoras in Tari , cover and keep aside for 5 minutes.
To make the cury more tatsy put Tadka to it in this manner: In a small pan pour 1/2 tbsp oil and heat. Keep a low flame, put 1/2 tsp Jeera and fry till it turns light brown. Turn off the gas, put red chilly powder and mix, now put this Tadka in the curry.
Capsicum Chilly Pakora Tari is ready. Take out the curry in a bowl, garnish with green coriander. Serve hot  Capsicum Chilly Pakora Tari with naan, chapati, parantha or rice.
To change the flavor of this Tari, you can also make tomato or cashew nut Tari.
Serves - 4
Cooking time - 35 minutes

Tags
Categories
Pakora in CapsicumGravy Recipe - Pakora Shimla Mirch Tari Recipe
Nisha Madhulika
Rating:

5.00

out of

5