Baigan Bharta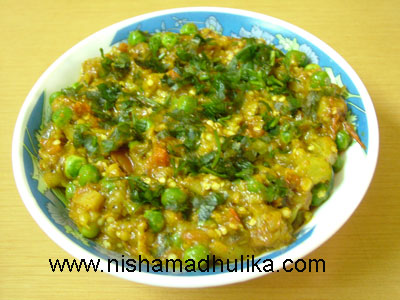 Baigan(brinjal) Bharta is very delicious to eat and is easy to make as well. Some people don't like brinjal as a vegetable but can not deny Baigan Bharta. So let us prepare this dish.
- Ingredients for Bengan Bharta
Brinjal(big) ———- 300 or 350 grams
Oil ———– 1 or 2 tbsp
Tomatoes ———- 250 grams ( finely chopped)
Peas ———  1/2 cup ( peeled)if you want
Green chilly ——— 1 or 2 (finely chopped)
Ginger ——— 1 inch long piece(finely chopped)
Heeng(asafoetida) ——— 1 to 2 pinch
Jeera(cumin seeds) ——— 1/2 tsp
Turmeric powder ——— 1/4 tsp
Red chilly powder ——— 1/4 tsp
Garam masala ——— 1/4 tsp
Salt ——— add to taste
Green coriander(dhaniya) ——— 1/2 cup(finely chopped)
- How to make Bengan Bharta
Take a nice, fresh brinjal then wash it. Make 2-3 holes in the brinjal with a knife, fill them with Heeng and keep them to fry. If you have a microwave then you can the brinjal in it(fry for 4-5 minutes). After frying brinjal becomes very soft. You can also fry the brinjal on the gas( keep brinjal on the gas burner and it will fry on the burner's side, then turn it to the other side, fry on all sides in this way). Keep the fried brinjal on a plate allowing it to cool down the peel and cut with a knife.
Boil the peas and keep aside.
Pour oil in a frying pan(kadhai), put Jeera in hot oil. After Jeera has fried add green chilly, ginger, turmeric powder, coriander powder and red chilli powder. Fry these spices for some time then put tomatoes in the spices and cook for 2 minutes on a low gas. Open the lid. tomatoes have become soft. Stir fry tomatoes using a spoon till oil starts floating over the spices.
Add brinjal and peas to these spices followed by salt and Garam masala. Cook for 2-3 minutes while stirring with a spoon. Turn off the gas. Baigan Bharta is ready.
Take out Baigan Bharta in a bowl, garnish with green coriander. Serve hot Baigan Bharta with parantha, chapati or naan.
If you prefer onion :
Finely chop 1 onion, after Jeera is fried add onion and fry till it turns brown and follow the above given instruction to prepare Baigan Bharta.
Baigan Bharta Recipe video in Hindi

Tags
Categories
Baigan Bharta
Nisha Madhulika
Rating:

5.00

out of

5