Unni Appam Recipe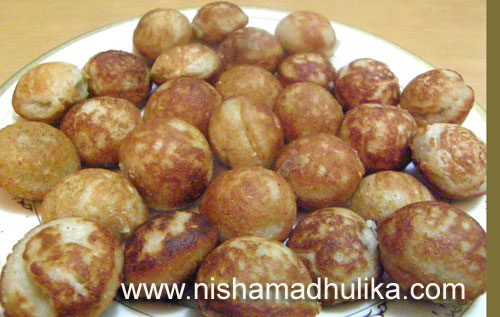 Last week we bought a non-stick Appa maker and we liked it a lot. We actually bought it to make a south Indian dish i.e Appam but we used it more to make cutlets without oil. The first thing we cooked in the Appam maker was Unni Appam which were very tasty.
Unni Appams are sweet and delicious to eat, kids specially love them.
हिन्दी में पढिये : Unni Appam Recipe
- Ingredients for Unni Appam
Rice flour - 200 grams (1 cup)
Suji(semolina) - 100 grams (1/2 cup)
Ripe bananas - 2 to 3
Gur(jaggery)/sugar - 75 grams (1/3 cup)
Coconut - 1/2 cup (grated)
Elaichi(cardamom) - 4 to 5 (peel and crush)
Eno salt/baking soda - 1/4 tsp
Oil - little to fry.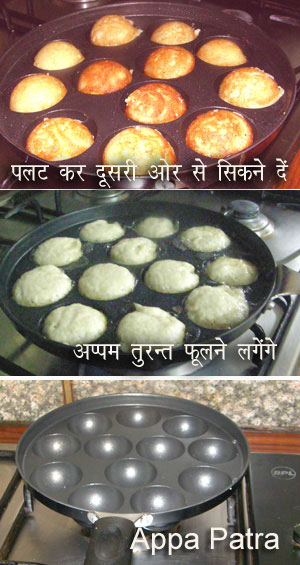 - How to make Unniappam
Soak rice grains for 1 hour. Remove th ewater from the rice , you can also spread the rice on a thick cloth so that it soaks water. Grind a fine flour of this rice.
Mix rice flour and Suji in a big utensil. Grind coconut and sugar then put it in the utensil and mix well.
Mash the bananas properly and put in the mixture. Also add Elaichi, followed by water and prepare a mixture thick like that of Idli. Beat the mix properly with a hand blender and keep aside for 30 minutes.
Mix Eno salt/baking powder to the mixture(Personally i feel eno salt make the mixture more puffy).
Place Appa Maker on the gas and heat it. Pour less than 1/4 tsp oil in all molds(you can also cook without any oil), put mixture in the molds with a spoon filling only half of it. Keep a low flame, Appam will puff up in no time and fill the mold completely. Turn over Unni Appam when its lower layer turns brown and cook till the other side turns brown.
Take out the cooked Unni Appam in  a plate and cook the other Unni Appam in this same way.
Steaming hot Unniappam is ready, serve and eat.
See how Anya is eating sweet-round Unni Appam with great delight.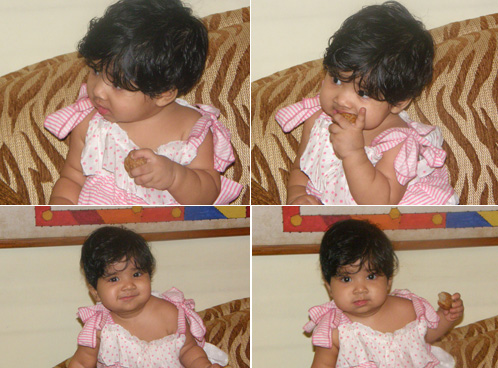 Tags
Categories
Unni Appam Recipe
Nisha Madhulika
Rating:

5.00

out of

5