Phalsa ka sharbat – False ka Sharabat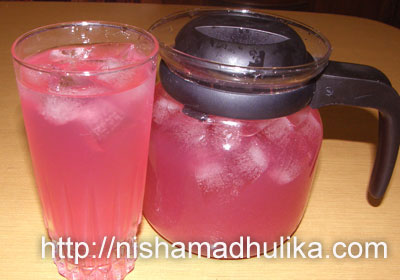 There is nothing better than a glass of sharbat(juice) in this season of heat and sun. The best thing would be, if this sharbat is made from Phalse (grewis asiatica). Phalse Sharbat can be commonly found in Uttar Pradesh.
Sometimes back we used to  hear the voice of vendors selling Phalse on the streets, shouting at the top of their voice, "Thande Thande Phalse, Tari Taravat ke Phalse". Phalse were found in abundance in those times, but today they seem to dissappear from the market.
Phalse is a small fruit with high nutritious value and look like similar to Jamun.These are normally eaten with salt, but kulfi and sharbat made from it has their own yummy factor. Come lets prepare Phalse Sharbat today.
Ingredients for Phalsa Sharbat
Phalse - 250 gms. (1 1/4 cup)
Sugar - 3 Table spoon.
Ice Cubes - 3 cups.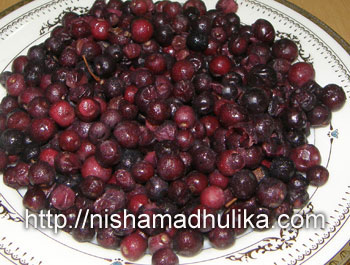 How to make Phalse ka Sharbat - Phalsa Sharbat
In olden times phalse sharbat was made by wrapping the fruit in a cloth and squeezing it with the hands. But this method was used in earlier times. Now mixers and juicers have made the work easy.
Wash the phalse and add put it inside the mixing jar.Add half cup of water and turn on the mixer. This way the pulp leaves the seeds at the bottom and gets mixed with the water. The seeds are left as it is.
Now add three cups of chilled water in this mixture, and turn on the mixer one again for half a minute. The pulp will get mixed into the water. Now take it out of the mixer, filter it and add 3 table spoon of sugar in it. You can also add 1 lemon into it.
Pour the juice into a glass and to make it more chill add some ice cubes. Your Phalsa Sharbat is ready to serve and drink.
This preparation is for 5 people.
Duration: 20 minutes.

Tags
Categories
Phalsa ka sharbat – False ka Sharabat
Nisha Madhulika
Rating:

5.00

out of

5