Gujiya dipped in Sugar Syrup – Gujhiya Recipe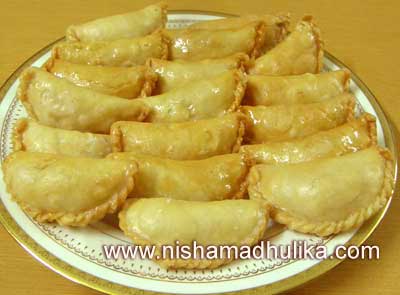 Have you made Ghujiya for the Holi? I wrote about simple Mawa Ghujiya in my last post.
You can dip the Mawa Ghujiya in sweet syrup also. The ingredients require to make it is similar to that of Simple Ghujiya recipe. Recipe to make chandrakala is as similar as that of Ghujiya. The difference lies in the filling and the shape of it. But chandrakala is not much preferred nowadays. We will make Chandrakala some other time. But today we will make Ghujiya dipped in sugar syrup.
Read this recipe in Hindi - Recipe of Gujiya Dipped in Suger Syrup
Ingredients of Ghujiya dipped in Sugar Syrup
For stuffing:
Mawa or Khoya - 200 gms. (1 cup)
Boora or powdered sugar - 150 gms. (3/4 cup)
Cashews - 30-35 (cut each into 6-7 pieces)
Raisins - 50-60 (separate the stems)
Cardamom - 6-7 (peel and grind)
Dry coconut - 100 gms. (1/2 cup) (grated)
Chironjee - 1 table spoon.
For Dough:
Maida - 400 gms. (2 cup)
Ghee - 100 gms. (1/2 cup)
Ghee - to fry ghujiya.
Sugar - 250 gms. (11/4 cup)
Method - How to Make Ghujiya Recipe

How to make filling for Gujhiya
Roast the mawa in a pan until it turns brown. Take out the roasted mawa in a bowl and let it cool down. 
Mix boora or sugar, raisins, cashews, cardamom, coconut and chironjee into the roasted mawa. The filling to stuff the Ghujiya is ready.
Sieve the maida in a bowl and add ghee into it. Mix both the ingredients well and knead the flour with luke warm water. Cover the dough with a wet cloth and leave it for 1/2 an hour. The dough to make Ghujiya is ready.
After half an hour punch the dough to fix and smoothen it. Make small equal sized balls of the dough. You will be able to make 40-45 small round balls from the dough. Always keep the balls covered with wet cloth, while you are making other balls. Take one ball and roll it like a thin poori.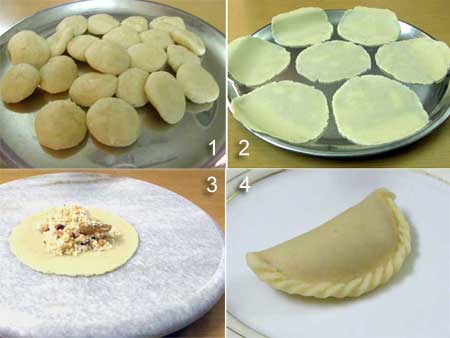 Take one poori and keep it on your palms. Put 1 tea spoon filling on the poori, apply some water at the corners of the poori and fold it from one side meeting the other end.  Press the corners with hands to fix the Ghujiya. Keep the Ghujiya on a plate or a cloth and knead it from the corners with your hands. You do not need molder to make sugar syrup dipper Ghujiya.
Prepare 10 Ghujiya at one time and cover them with a wet cloth. Prepare more Ghujiyas and keep on placing them under the wet cloth.
Now is the time to fry all the Ghujiyas. If you are tired then take 15-20 minutes break.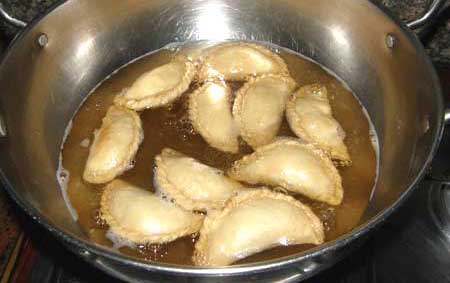 How to fry the Ghujiya
Heat oil in a pan and put 8-10 Ghujiyas at one time. Fry them on medium flame until they turn brown and crispy from both the sides. Fry all the other Ghujiyas in the lot of 8-10 each.
Let the Ghujiya cool down. Meanwhile, we will prepare sugar syrup to dip Ghujiya.
How to make Sweet Syrup
Take a deep pan and put sugar in it along with half the quantity of water (250 gms sugar, 125 water). Mix them well and put the pan on the stove to boil. Cook the syrup for 5-6 minutes to make one string sugar syrup. Pour a drop of syrup on a plate to check. Once it cools down a bit, take it between your thumb and a finger and see if it sticky or not. If you feel stickiness between your fingers forming a single string, then it means that your syrup is ready. Turn off the flame.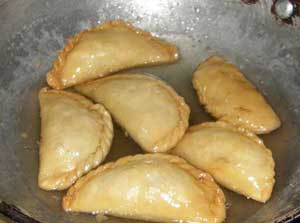 Now dip 4-5 Ghujiya into the syrup and then take them out with the ladle and keep on a plate. Keep the Ghujiya on a plate away from each other. Leave them open for 1 hour to dry the syrup coating.  Your Sugar Syrup dipped Ghujiya is ready. Serve them to your family members and guest at home. You can store the remaining Ghujiya in an air-tight container and eat whenever you like.
Gujihya dipped in Sugar Syrup video


Tags
Categories
Gujiya dipped in Sugar Syrup – Gujhiya Recipe
Nisha Madhulika
Rating:

5.00

out of

5