Jimikand Curry Recipe - Indian Yam Recipe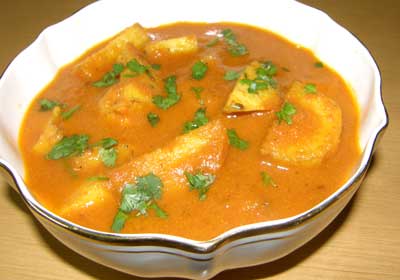 Jimikand, the name remind me of the vegetable curry which my mother used to cook when i was little and i never used to like it. But she used to like this  this vegetable very much, so even i got some Jimikand to cook.
I tried this recipe and which made Jimikand taste really good. Let us make Jimikand curry for dinner tonight.
- Ingredients for Jimikand Recipe
Yam(Jimikand)  -  300 grams ( 1 small yam)
Lemon - 1
Tomatoes - 2  (medium sized)
Green Chilli - 2
Ginger - 1 1\2 inch long piece
Curd  - 1 small bowl
Oil - 100 grams
Heeng(asafoetida) - 1 to 2 pinch
Jeera(cumin seeds) - 1/2 tsp
Turmeric powder - 1/4 tsp
Coriander(dhaniya) powder - 1 tsp
Red chilli powder - 1/4 tsp
Garam masala - 1/4 tsp
Salt - add to taste( 3/4 tsp)
Green coriander - 2 tbsp (finely chopped)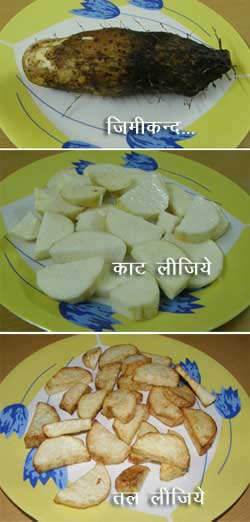 - How to make Jimikand Recipe - Yam Recipe
Clean the yam by washing it, apply oil on both hands. Peel the yam's thick skin and cut into 1-2 inch long pieces.
Squeeze the lemon's juice over the pieces of yam, sprinkle 1/2 tsp salt and leave the pieces aside for 30 minutes. Now wipe off the lemon juice and salt from the pieces with a clean wet cloth.
Make a paste of the tomatoes, green chillies and ginger. Churn the curd.
Pour oil in a pan(kadhai) and heat. Put the yam pieces in hot oil and fry till they turn brown.
Pour 2 tbsp oil in a cooker and heat, put Heeng and Jeera in hot oil. Once Jeera is fried add coriander, turmeric, tomato paste, red chilli powder to oil. Fry these spices till oil starts to float over them. Add churned curd to the fried spices, stir till it comes to boil.
Put yam pieces to the spices. Pour 1 glass water or according to how thin you want the curry to get, you can add as much water and salt. Stir till water starts boiling, close the cooker's lid. Cook till 1 whistle goes off. After all the pressure is released from the  cooker open its lid. Add Garam masala and chopped coriander to the curry.
Your Jimikand/Yam curry is ready. Take it out in a bowl and garnish with chopped coriander. Serve hot Yam curry with parantha, naan or chapati and eat.
Serves - 4
Cooking time - 25 minutes
Jimikand Curry Recipe video

Tags
Categories
Jimikand Curry Recipe - Indian Yam Recipe
Nisha Madhulika
Rating:

5.00

out of

5