Churma Laddoo Recipe, Choorma Laddoo, Rajasthani Churma Ladoo Recepie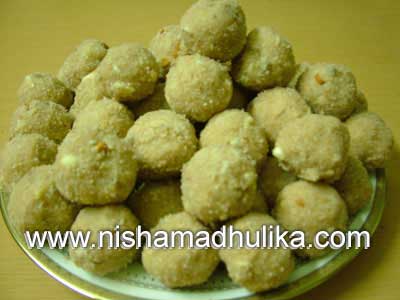 Choorma Ladoo is a typical Rajasthani sweet. Its very delicious, and home cooked sweet is even better. Let's prepare choorma ladoo.
Ingredients of Churma ke laddoo
Wheat Flour – 400 gm
Farina (Sooji) – 100 gm
Pure ghee – 500 gm
Bhura (Tagar) – 700 gm
Mawa (Khoya) – 250 gm
Cashews – 100 gm
Almonds – 50 gm
Dried resins – 50 gm
Cardamom – 15 to 20 (Peel and grind)
How To make Rajasthani Churma Ladoo
Take out the flour and farina in a utensil. Mix thoroughly 125 gm ghee in this. With the help of 100 gm milk, knead a hard dough. Now keep the dough aside for about 1 hour.
Put the ghee in a frying pan and heat it (save about 100 gm ghee for later use). Now take out a small lump from the dough and make a small ball like shape and flatten it by your palms. Now submerge it in the ghee for frying. In the same way put 3 to 4 flatted lumps in the frying pan and fry on a low flame. When they start turning brown, take them out and put them in a plate. This way fry all the dough and keep aside for cooling.
Break the fried flatted dough into pieces and grind them in a grinder. Filter this powder and grind the bigger lumps again.
Now put the residual ghee and the 100 gm ghee, kept aside earlier, in the frying pan. Fry the grinded dough on a low flame. When it turns light brown and the fragrance of ghee starts coming, then remove the frying pan from the burner. Now roast the mawa (khoya) and mix the roasted mawa (khoya) in the brownish fried dough.
In this mix properly: bhura, cashew, almonds, dried resins and cardamom. The mixture for the ladoo is ready now.
Now take out a handful of the mixture and make a round shape with both the hands. Start keeping these ladoos in a plate. Now you can eat these hot fresh ladoos along with your family.
इस पोस्ट को हिन्दी में पढ़ें
चूरमा के लड्डू
Choorma ke Laddoo Video in Hindi

Tags
Categories
Churma Laddoo Recipe, Choorma Laddoo, Rajasthani Churma Ladoo Recepie
Nisha Madhulika
Rating:

5.00

out of

5