Kanji Wada - Kanji Vada Recipe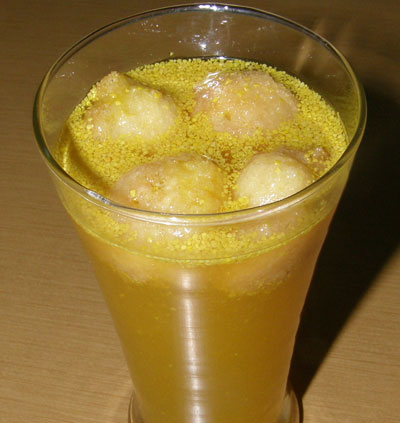 Kanji wada is a very tasty drink and aids digestion. Tangy kanji wada comes to the rescue when you have eaten too many sweets on festivals and don't feel like eating anything else.
It is tasty and improves appetite. Kanji can be made at any time, especially on festivals. Let's make kanji wada today!
इस पोस्ट को हिन्दी में पढ़ें
कांजी बड़ा
Ingredients for Kanji Vada Recipe
Water – 2 liters (10 glasses)
Asafetida (Hing) – 2 pinches (optional)
Turmeric Powder (Haldi) – 1 teaspoon
Red Chili Powder – ¼ teaspoon
Yellow Mustard (Peeli sarson) – 1 tablespoon
Salt – 1 teaspoon
Black Salt (Kala Namak) – 1 teaspoon
Mustard Oil – 1 tablespoon
For Wada
Green Gram (Moong dal) – 100 grams (1 teacup)
Salt – to taste
Oil for frying
To Make Kanji
Boil water in a vessel.
Cool water and pour in some glass or plastic container. Add asafetida, turmeric powder, red chili powder, yellow mustard, salt, black salt and mix well. Close the lid of the container and keep aside for 3 days. Don't forget to stir with clean and dry spoon once in a day.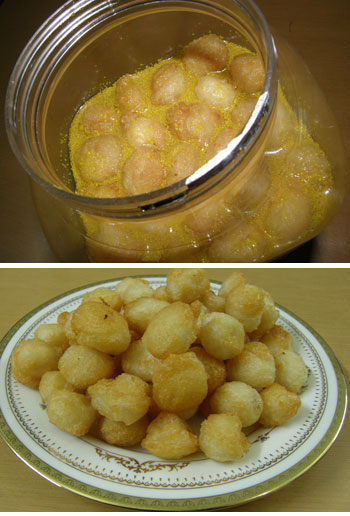 kanji-wavaTaste water on the fourth day, kanji is ready if it tastes tangy, spicy and tasty. Now make wadas.
To Make Wadas
Clean green gram, wash and soak in water for 2 hours.
Drain water and grind. Take out ground gram in a bowl, add salt and beat.
Heat oil in karai (wok). Make small wadas with hand and put 8-10 wadas in oil at one time. They will become fluffy rounds in oil. Turn sides and fry till they turn brown. Keep on a plate. Fry all wadas in this fashion.
Soak wadas in lukewarm water for 15 minutes. Drain water after 15 minutes.
Put 4-5 wadas in a glass and top with kanji. Serve and enjoy this refreshing drink.
You can also use boondi in place of wadas in kanji.
Kanji vada – Kanji Wada – How to make Kanji Vada Video in Hindi
Tags
Categories
Kanji Wada - Kanji Vada Recipe
Nisha Madhulika
Rating:

4.13

out of

5