Groundnut Halwa Recipe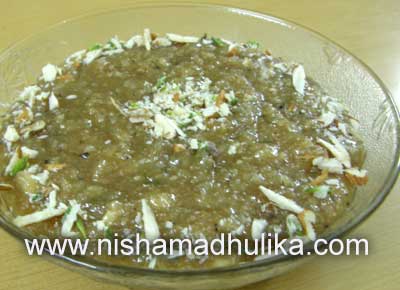 Halwa- the name itself brings water to your mouth. If you get your favorite Halwa then it's a different feeling altogether. The most important ingredients required to prepare Halwa, first the ingredient with which we want to make the Halwa, Ghee, sugar and dry fruits, if you have all these ingredients then it is very easy to prepare Halwa.
If the ingredient with which you want to make the Halwa is in powder form then that's not a matter of concern, if not then then turn it into powder or paste form. Fry it in Ghee then add Chashni made from sugar and dry fruits cut into pieces. If you want to add more taste then fry Mawa and put in it. , mix all of the ingredients, Halwa is ready in minutes. This Halwa was liked a lot by my son, so let us make Groundnut Halwa today.
हिन्दी में पढिये : Groundnut Halwa Recipe
Ingredients for Groundnut Halwa
Groundnuts(peeled) - 100 grams(1 small bowl)
Ghee - 2 tbsp
Mawa(dry milk) -  50 grams (1/2 small bowl)
Sugar - 125 grams(1 1/4 small bowl)
Cashew nuts - 15 (cut into 5-6 pieces)
Raisins - 15 to 20 (break the stems and wash)
Almonds  - 7 to 8 (cut into thin strips)
Pistachios - 7 to 8 (cut into thin strips)
Elaichi (cardamom) - 4 to 5 (peel then crush)
How to make Groundnut Halwa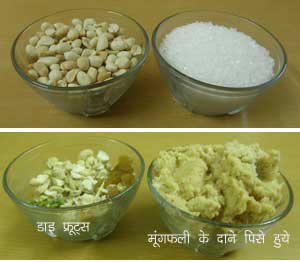 Soak peeled ground nuts in water for 3-4 hours. Take them out of the water and make a coarse paste.
Pour Ghee in a frying pan(kadhai) and heat, fry ground nut paste in Ghee(you need to continuously stir the paste while frying as it tends to stick to the base instantly). As soon as good aroma emits from the Halwa add Mawa and fry, turn off the gas after Halwa turns light brown.
Put sugar in any utensil, pour water equal to the amount of sugar(100 grams of water in 100 grams of sugar) in the utensil. Place it on the gas, cook till sugar melts. Keep some almonds and pistachios aside to garnish the Halwa. Put the remaining dry fruits and Elaichi in the Chashni and mix well.
Put the roasted paste in Chashni and mix then cook for another 4-5 minutes. Groundnut Halwa is ready.  Take out Halwa in a glass bowl and garnish with chopped dry fruits. Serve hot Halwa and eat. Keep the leftover Halwa in the fridge, take it out from the fridge and eat whenever you want up to 1 week. You can eat it either hot or cold.
You can also condense this Halwa the same way Barfi is condensed.
For this you have to add water in sugar not in the same amount but half of it while preparing the Chashni. This dries the Halwa more which we will be able to condense. To solidify Barfi, grease a plate with Ghee and garnish Halwa with chopped dry fruits after it is condensed. Cut into Barfi shapes after it cools down.
Groundnut Halwa Recipe video in Hindi


Tags
Categories
Groundnut Halwa Recipe
Nisha Madhulika
Rating:

5.00

out of

5