Semolina Gulab Jamun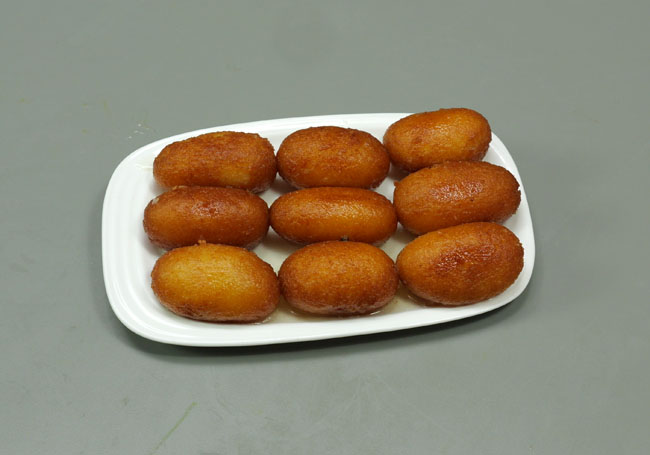 On Rakhi, it is in the heart of every sister that today you should feed your brother something sweet by making it herself. Today we are going to make semolina gulab jamun for every sister. Their taste is exactly like mawa gulab jamun. Brothers will find its taste very wonderful. So you too make Gulab Jamun with this easy method and let your brother taste this sweet with your own hands.
Ingredients for Sooji Gulab Jamun
For Dough
Ghee - 1 tsp
Milk - 2 cup (1/2 litre)
Semolina - 1 cup (180 grams)
Baking Powder - 1/8 tsp
Cardamom Powder - 1/2 tsp
For Sugar Syrup
Sugar - 2 cups (450 grams)
Cardamom - 4, crushed
Lemon - 1/2 tsp
Ghee & oil for frying
Process of making Dough
Melt 1 tsp of ghee in a pan. Then add 2 cups of full cream milk to it and cook it while stirring it for a while till it comes to a boil. When it comes to boil, reduce the flame and add 1 cup of semolina in milk little by little while stirring continuously.
Cook it while stirring it till it becomes a dough. As soon as the dough is made, turn off the flame and take out the dough in a bowl and keep it covered for 10 minutes.
Process of making the Chashni
Put 2 cups of sugar and 2 cups of water in the pan. Cook it while stirring it for a while till the sugar dissolves. After the sugar dissolves, add 4 crushed cardamom to it and cook it for 3-4 minutes. After the time is up, turn off the flame and keep it covered. In this way the syrup will be ready.
Process of making Gulab Jamun
Mash the dough, mash it while it's still slightly hot. Now add 1/2 tsp of cardamom powder, 1/8 tsp of baking powder and 1 tsp of ghee and mash it while mixing it well. Make a smooth dough by mashing it.
After applying ghee on the hand, break the balls, round a ball and give it an oval shape. Similarly, make an oval shape round all the balls and keep them in a plate. Now put half ghee and half oil in a pan and heat it. The oil should be medium hot and the flame should be low-medium.
Fry the gulab jamuns in hot oil. Let them fry for some time, then fry them by rotating them till the colour turns dark. After frying, reduce the flame and take them out. Add 1/2 tsp of lemon juice to the syrup and mix well. When they cool down a bit, put them in sugar syrup and prepare the rest in the same way.
When all the gulab jamuns are made, let them soak in the syrup for 2 hours. Then while doing Rakhi for your brother, place gulab jamuns in the plate of worship and enjoy their taste.
Suggestions
Baking powder has to be measured.
For frying gulab jamuns, the oil should be medium hot and the flame should be low-medium.
When the gulab jamuns cool slightly, put them in the syrup and the syrup should not be too hot.
You can keep them in the fridge and eat them for 7 days.

Tags
Categories
Semolina Gulab Jamun
Nisha Madhulika
Rating:

5.00

out of

5