Peanut cookies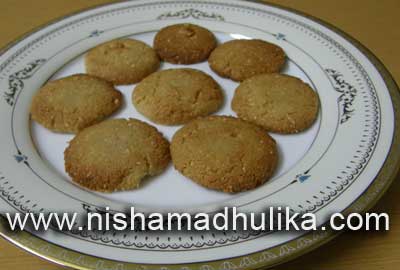 Peanut cookies are very tasty. and children like the cookies very much. They are easy to make. Make peanut cookies for your child this evening.
Your kids will love them, and you will enjoy them too. All the ingredients I used in the cookies are healthy for everyone. Let`s make Peanut cookies.
इस पोस्ट को हिन्दी में पढ़ें मूंगफली की कुकीज कैसे बनांये
Ingredients for Peanut Cookies
Peanuts (mungfali ke dane) - 100 grams (roasted and peeled)
Maida or flour - 200 grams
Sugar - 100 grams(powdered)
Ghee or butter - 100 grams
Milk - 2 table spoons
chocolate powder - 2 tea spoons (optional)
Baking powder - 1 tea spoon
How To Make Peanut Cookies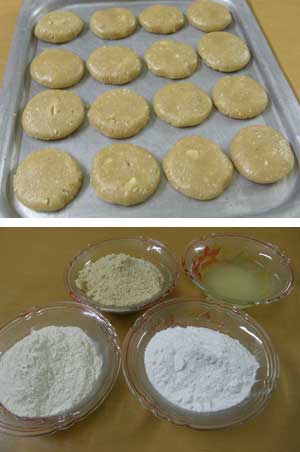 Grind peanuts into a coarse powder.
In a bowl, mix the melted ghee or butter and sugar.
Mix the chocolate powder with the milk in a cup
Mix the chocolate milk into the butter and sugar mixture and blend them using a big spoon.
Add maida, peanut powder and baking soda and blend them again until the mixture is smoth and fluffy.
Grease a tray with butter. Take out a little cookie dough and roll into 1 inch balls, flatten it, and place on the greased tray. Allow room for the cookies to spread.
Set the oven on 200º C. Keep the tray in the oven and bake the cookies for 15-20 minutes, until they are brown. Remove from the oven and let them cool.
Serve the crunchy cookies to your children and let them enjoy. Keep the remaining cookies in an airtight container and have them whenvever you want a tasty and healthy treat.

Tags
Categories
Peanut cookies
Nisha Madhulika
Rating:

5.00

out of

5