Gajar Kanji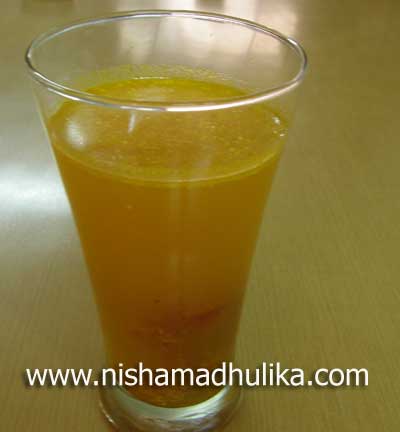 Gajar Kanji is a refreshing drink. It is very popular in Northern India. The drink is very tasty and aids digestion. Try this recipe and tell me, how it was.
इस पोस्ट को हिन्दी में पढ़ें
गाजर की कांजी
Ingredients for Gajar Kanji
Carrot (gajar) - 250 grams
Salt - 2 tea spoons
Turmeric powder -3/4 tea spoon
Red chilli powder - 3/4 tea spoon
Mustard powder - 3 tea spoons
Mustard oil - 1 table spoon
Water - 2 litres
Asafoetida - 2 pinches
How to make Gajar Kanji
Peel and wash the carrots. Cut the carrots into small (1 inch long) pieces. Boil the carrot pieces, cool and drain the water.
Put the boiled carrot pieces into a jar, mix salt, turmeric powder, chilli powder, mustard powder and mustard oil.
Boil the water, and leave it for cooling. Put the water in the jar.
Heat the griddle, put asafoetida on the hot griddle, roast and powder it.
Put the roasted asafoetida poweder in the jar, and shake well. Cover the jar and keep the jar in the sun for 3-4 days. Shake the kanji once in a day, and in the night keep the jar indoors.
The kanji is ready. You can put the jar in a refrigerator now. Serve chilled.
The kanji doesn't have a very long shelf life, so consume it within 10-12 days.

Tags
Categories
Gajar Kanji
Nisha Madhulika
Rating:

5.00

out of

5