How to make curd – Making Dahi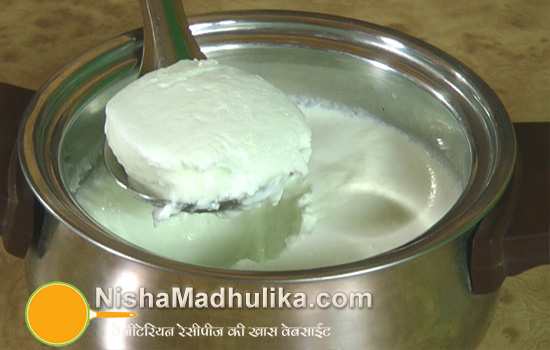 Many people don't like milk, and some are not able to digest it easily, but curd is beneficial to everybody. Curd is rich in calcium and proteins.
It's easy on the stomach too because your stomach doesn't have to work hard to digest lactic acid. Milk is changed into curd by special bacteria.
You can find curd in the market and you can also make it at home. It's very easy to make curd. Come let's make curd.
इस पोस्ट को हिन्दी में पढ़ें
दही जमाना
Ingredients for Curd
Milk – 500 gm
Curd – 2 small spoon
How to make Dahi
When we make curd with lemon etc, it doesn't taste good. But when we use this curd to make other curd, then that the next curd tastes great. So it's a good idea to buy the curd from dairy to make curd.
Boil the milk. If the milk is not boiled properly, it won't make good curd. In winters put the boiled milk in the casserole. In summers you can use any utensil. Test the milk's temperature you're your finger. It should be cool enough to let you comfortably immerse your finger into it. Now add the curd to the milk and close the casserole or the utensil.
Don't open the casserole or utensil before 6 hours. After 6 hours when you open the utensil, you will find good curd. Now you can eat this curd.
Refrigerate the remaining curd. It doesn't become sour soon. You can eat this curd for 2 to 3 days. If the curd becomes sour then use it to make other dishes like curry.
How to make curd at home Video in Hindi

Tags
Categories
How to make curd – Making Dahi
Nisha Madhulika
Rating:

5.00

out of

5