Makki ka Paratha - Bhutte Ka Paratha Recipe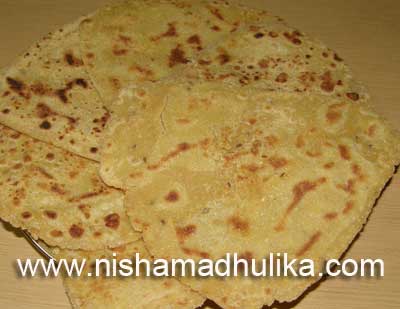 When you want to spend a cold wintry evening, partying at home, prepare the delicious Makka Paranthas.
They're tasty, and your entire family would love the treat. Let's prepare Makka Paranthas (Cornflour paranthas) today.
इस पोस्ट को हिन्दी में पढ़ें
मक्के के परांठे
Ingredients for Makki ka Paratha
Corn flour – 250 gms (2 small bowls)
Wheat flour – 125 gms (1 small bowl)
Cumin Seeds – 1 small spoon
Oil – To cook the paranthas
Salt – As per taste
How to make Bhutte Ka Paratha
Filter corn flour and wheat flour into a large utensil with a sieve. Add 2 small spoonfuls of oil, cumin seeds and salt to the flour. Knead the flour into soft dough with the help of lukewarm water. Keep it covered for half an hour. After half an hour soften the dough further by kneading it.
Heat a griddle on flame. Take out a small chunk from the dough, and roll it into a ball. Press it into a flat disk with your palms and flatten it with a rolling pin into a disk of 4 inches diameter. You can sprinkle dry wheat flour on the dough while rolling it so that it doesn't stick to the rolling pin.
Take half a spoon of oil, and spread the oil on dough disk. Now lift one side of the circular disk, and fold it into a semi-circle. Fold it from the corner once more into a triangular shape. Flatter the triangular dough with your palm, and then roll it into a spread using the rolling pin.
Put this Makka Parantha on a flat-pan, and cook it from both the sides with oil like a regular parantha.
Prepare all the paranthas similarly. You can eat them with curd, chutney, potato-tomato sabzi, or any other vegetable sabzi that you like.
Note: You can add chopped Methi (fenugreek leaves), or chopped spinach to make the paranthas even tastier.
Makki ka Paratha Video in Hindi

Tags
Categories
Makki ka Paratha - Bhutte Ka Paratha Recipe
Nisha Madhulika
Rating:

5.00

out of

5