Carrot Beetroot Soup - Gajar chukandar Soup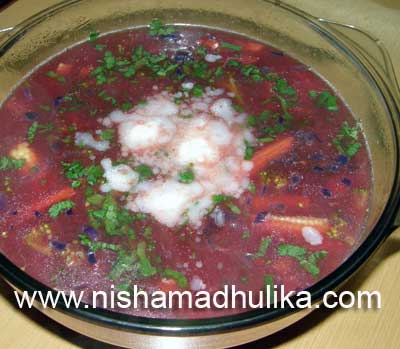 Everybody likes hot soup in the cold winter season. Let's make the Carrot Beetroot Soup today.
इस पोस्ट को हिन्दी में पढ़ें
लाल सूप
Ingredients Carrot Beetroot Soup
Beetroot – 1 medium size (cut into small pieces)
Red leaf Cabbage – 1 small bowl (cut)
Carrot – 1 medium size (cut into small pieces)
Red Capsicum – 1 medium size (cut into small pieces)
Baby Corn – 4 to 5 (cut them length wise)
Broccoli – 1 small bowl (cut)
Corn flour – 1 big spoon
Butter – 2 tablespoon
Ginger – 1 inch long piece (grated or grinded into 1 small spoon paste)
White Pepper – half small spoon
Black Pepper – half small spoon
Salt – as per taste
Chili sauce – 1 big spoon
Lemon – small (take out the juice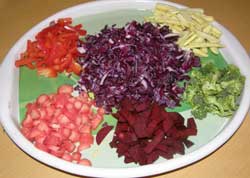 Wash and cut all the vegetables.
Mix the cornflour in half small bowl of water (there should not be any lumps).
Put 1 ½ butter in a heavy bottomed utensil and heat it. Add the ginger paste and Beetroot in the utensil and heat it on medium flame for 2 minutes.
Now put all the remaining vegetables in the utensil. Roast the vegetables for 2 to 3 minutes, while stirring. Cover the utensil and let the vegetables boil on a low flame for another 2 minutes. Now add 700 gm water, corn flour solution, white pepper, black pepper, salt and chili sauce to the vegetables.
Keep stirring the soup with a stirring spoon till it starts boiling. After it starts boiling, let it heat on low flame for another 3 to 4 minutes. Turn off the burner. Mix lemon juice in the soup.
Take out the soup in a bowl and garnish with butter and coriander. The delicious and healthy Carrot Beetroot Soup is now ready to serve and drink.

Tags
Categories
Carrot Beetroot Soup - Gajar chukandar Soup
Nisha Madhulika
Rating:

5.00

out of

5