Amla Pickle - Gooseberry Pickle Recipe - Amla Achar Receipe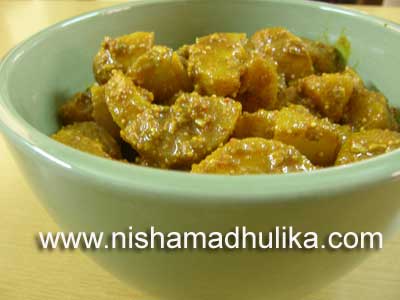 Amla (Indian Gooseberry) is extremely beneficial for health. It's rich in iron and vitamin c. Let's make amla pickle today.
यह पोस्ट हिन्दी में पढें
Amla Achar Receipe in Hindi
Ingredients for Amla Achar
Amla – 500 gm
Mustard Oil – 200 gm
Asafetida – 3 to 4 pinch (grinded)
Fenugreek seeds – 1 small spoon
Salt – 50 gm
Turmeric Powder – 2 small spoons
Red chili powder – 1 small spoons
Yellow Mustard seeds – 3 small spoons (grinded coarsely)
Fennel seed powder – 2 small spoon
How to make Amla ka Achar
Take good quality amla and wash them in clean water. Put 500 gm water in a utensil and heat it. Add amla to the utensil after the water boils. Let it heat for another 3 to 4 minutes. After it boils again, turn off the burner. And leave the amlas covered for cooling.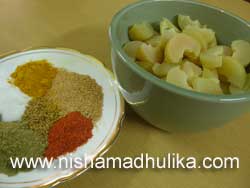 Pour out the water and let the remaining water dry. Now cut the amlas and remove their seeds.
Put 100 gm oil in a frying pan and heat it. Put asafetida and fenugreek seeds in the frying pan. Stir them a couple of times to properly fry them. Mix turmeric powder, fennel seed powder, red chili powder, yellow mustard and salt in the mixture. Put the amla into this mixture. Mix them together properly. The Amla Pickle is ready.
Fill the pickle in any glass container. Keep it stored for 3 to 4 days so that it marinates well. Stir the pickle with a clean and dry stirring spoon everyday. Amla Pickle is ready for consumption from the very first day, but after 4 days it will taste much better. Now pour the remaining oil in the pickle (For preserving the pickle for long durations, it should always be dipped in oil).
You can have this Amla Pickle along with your meals for up to 1 year.
Note: Always take out the pickle with a clean and dry spoon otherwise there are chances of spoilage.
Amla Pickle Recipe Video in Hindi

Tags
Categories
Amla Pickle - Gooseberry Pickle Recipe - Amla Achar Receipe
Nisha Madhulika
Rating:

5.00

out of

5