Mooli Gajar ka mix Achaar । Gaazar Muli Pickle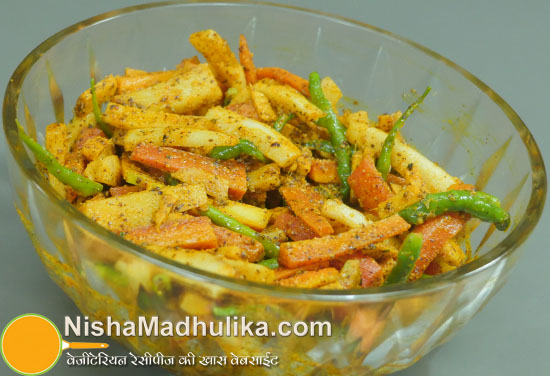 Here is special Gajar Mooli Mix pickle to add more flavors to your meal. If you wish you can eat poori and parathas just with this pickles. You won't need any dal or sabzi with it.
हिंदी में पढ़िए - सर्दियों के लिए खास गाजर मूली का अचार | Mooli Gajar ka mix Achaar । Gaazar Muli Pickle
Ingredients for Gazar Muli Achar
Peeled Radish - 500 gms
Peeled carrot - 250 gms
Peeled ginger - 50 gms
Green chilies - 50 gms
Salt - 2 tsp or to taste
Mustard oil - 1/2 cup
Red chili powder - 1 tsp
Turmeric powder - 1 tsp
Salt - 2 tsp or to taste
Black pepper - 1/2 tsp coarsely ground
Carom seeds - 1/2 tsp
Mustard powder -6 tsp (coarsely grounded)
Asafoetida - 2 pinch
Vinegar - 2 tbsp
How to make Mooli Gajar ka Mix Achar
Take radish, carrot, green chili remove stalk, wash it and pat dry.Take washed, dried and peeled ginger.
Cut the radish in 2 inch pieces . Keep in bowl. Cut carrots likewise. Keep it in same bowl.Cut ginger in long and thin 1 to 1.25 inch pieces. Divide in 2 to 3 parts. Take green chili, slice from the center. Keep it in same bowl.
Add 2 tsp salt to it.Mix it. Fill all the ingredients in a food grade container.Close and keep it for 24 hours.Mix it after 10 to 12 hours like this or stir with spoon.Next day, strain the juice from the pickle in a bowl. Keep it for 10 minutes to strain juice.
After 10 minutes when juice is drained spread it in a tray. Dry it under fan or sunlight.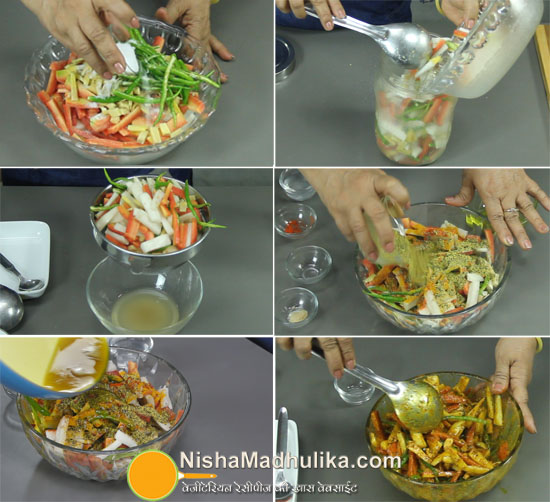 When radish carrot dry up, Keep in a bowl.Mix the spices to pickle. Add 2 tsp salt, 1 tsp turmeric powder,1 tsp red chili powder, 1/2 tsp fresh and coarsely ground black pepper, 1/2 tsp carom seeds 6 tsp of coarsely ground mustard seeds and mix well.
Take 1/2 cup mustard oil for pickle. Turn on flame,heat it in a pan, till there is smoke.Let it cool. When oil cools off add asafoetida. Pour the asafoetida flavored oil in pickle. Mix all ingredients well. Add 2 tbsp vinegar to pickle.
Keep it in a glass or food grade container, Stir the pickle one for 3 days. You can relish this pickle for 3 to 4 months.
Suggestion :
If the carrot is yellow from inside and you dislike it , you can skip using it.
You can use raw mustard oil without heating. If you dislike its raw taste then you can heat and use it.
Vinegar used in pickles enhances its flavor and also increases the shelf life.
The vessel to make the pickle should be clean and dry.
Use any glass or food grade plastic container to store the pickle. Use clean and dry spoon to take out pickle.
Mooli Gajar ka mix Achaar । सर्दियों के लिये खास गाजर मूली का अचार । Gaazar Muli Pickle

Tags
Categories
Mooli Gajar ka mix Achaar । Gaazar Muli Pickle
Nisha Madhulika
Rating:

5.00

out of

5