Baingan Bharta Recipe - How to make Roasted Eggplant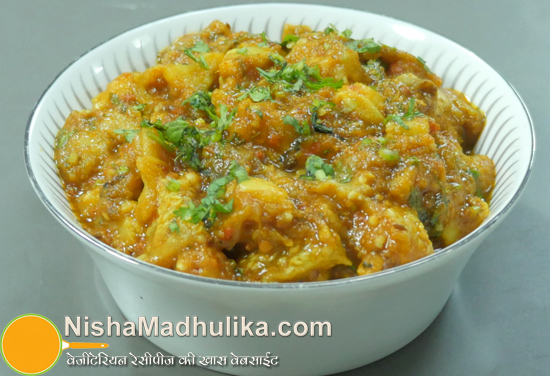 Baingan Bharta so delicious, even those who pinch their noses at it will have it.
Ingredients for Baingan Bharta Recipes
Eggplant- 1 (500 grams)
Tomatoes – 2 ( 150 gms)
Ginger- ½ inch piece
Green chili – 2
Mustard oil – 2 tbsp
Green coriander- 2 to 3 tbsp (finely chopped)
Cumin seeds- ½ tsp
Asafoetida- ½ pinch
Turmeric Powder- ½ tsp
Coriander Powder- 1 tsp
Red chili powder- ¼ tsp
Garam Masala – ¼ tsp
Salt – 1 tsp or to taste
Ginger – ½ inch piece ( finely chopped )
How to make Roasted Eggplant
Take a brinjal.Wash it then pat dry. Coat the brinjal with some oil prior roasting it.
Make a cut from the knife over the brinjal and add asafoetida inside it. Turn it around and mark 3 more cuts. Add some more asafoetida in each cut.Turn on the flame and place a net stand over it.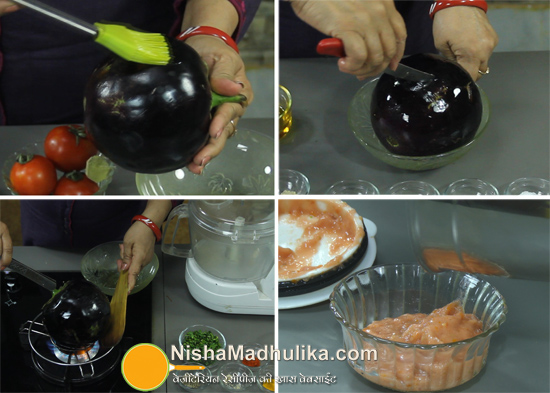 Keep turning around the brinjal and roast each side nicely. After a while press and check if it has turned tender. Turn of the flame. It takes 10 minute to roast the brinjal.
Take tomatoes, ginger piece, cut in rough chunks, green chilies, cut them into half for masala. Add all to mixer jar and grind it. Transfer it to a bowl.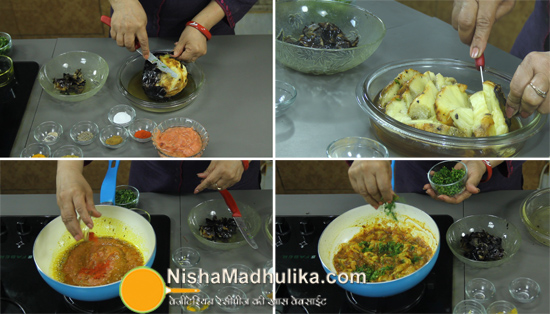 Press and check the eggplant. When pressed well and is soft then turn off flame. Once the brinjal is roasted well, place it on a plate. Let it cool a little and then peel of its skin. Remove the roasted black skin from it. Place it in a plate.
For preparing the masala heat oil in a pan and let it heat sufficiently then add the remaining asafoetida, cumin seeds, turmeric powder, and coriander powder and reduce the flame to prevent the spices from browning. Also add piece of ginger.Sauté the masala for a while ,and then add ground tomato-ginger-green chili paste, followed by ¼ tsp red chili powder. Sauté the masala until oil starts separating from it.Keep stirring the masala at regular intervals and keep the flame medium.
Once the masala is ready, add garam masala and salt. Cut the roasted brinjal and add to the masala.
Also add some green coriander and mix thoroughly. Cook for 3 to 4 minutes on low flame so that brinjal absorbs all the spices.
Once the bharta is ready, transfer it to a plate. Lip smacking and super tempting brinjal bharta is now ready. Garnish with some green coriander sprigs. Serve this scrumptious eggplant bharta with chapatti, naan, paranthas or rice. This much quantity of bharta is sufficient for 3 to 4 family members.
Suggestion:
While selecting brinjal from the market make sure that it soft. Press it down with your hand while selecting. If it is been pressed down easily. Eggplant is soft enough and is also dark in color.The stalk color should be nice green in color. It should be fresh.
Coating the brinjal with some oil prior roasting it, helps in roasting it nicely and it gets easy to remove the skin from it.
Don't use too much quantity of asafoetida while filling the brinjal.
We have used mustard oil here in this recipe as it enhances the taste. You can also use any other cooking oil.
If you prefer eating spicier then you can adjust the quantity of red chili powder.
We have used finely chopped ginger here as they taste good while consuming the sabzi.
But if you don't like it finely chopped then grind the whole ginger along with tomatoes.
Baingan Bharta Recipe - बैंगन का भर्ता - How to make Roasted Eggplant
Tags
Categories
Baingan Bharta Recipe - How to make Roasted Eggplant
Nisha Madhulika
Rating:

5.00

out of

5