Paneer Pasanda Recipe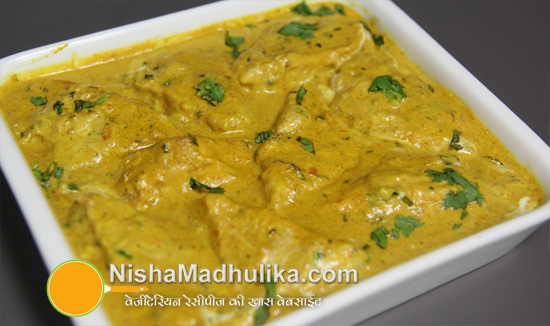 Paneer pasanda recipe is a sabzi, rich in taste. Paneer pasanda sabzi can be prepared for any party or special occasion. 
हिन्दी में पढिये : Paneer Pasanda Recipe
Ingredients for Paneer Pasanda
For making paneer sandwich:
Paneer - 300 grams (take one large chunk)
Refined flour or corn flour or ararot - 2 tbsp
Ginger paste - 1/2 tsp
Cashews, almonds and pistachios - 2 tbsp (finely chopped)
Raisins - 1 tbsp
Oil - for frying paneer sandwich
For gravy:
Tomato - 4 (200-250 grams)
Green chilly - 2
Cream - 1 cup (200 grams)
Oil - 2 to 3 tbsp
Green coriander - 2 to 3 tbsp (finely chopped)
Ginger paste - 1 tsp
Dry fenugreek leaves - 1 tsp
Asafoetida - 1 pinch
Cumin seeds - 1/2 tsp
Coriander powder - 1 tsp
Red chilly powder - 1/4 tsp
Turmeric powder - 1/4 tsp
Salt - 1 tsp (to taste)
How to make Paneer Pasanda
Cut paneer in 1/2 inch thick and 1.5" * 1.5" square chunks. Make a cut in this square chunk and make two triangular shaped chunks. Likewise cut all chunks. 
How to make stuffing for Paneer Pasanda
For making the stuffing, crumble the leftover paneer cuttings. Add chopped dry fruits, ginger, raisins, 1 pinch salt and some green coriander. Mix all the ingredients really well. Stuffing is ready. Add 2 to 3 tbsp water in ararot and make a thick batter. Add 1 pinch salt to it. 
How to make Sandwich for Paneer Pasanda
Take one paneer chunk, hold it upside down, keeping the top corner downwards and make a slit keeping it joint at the bottom. The method for cutting can be seen in the video. 
Open the slit paneer chunk and place 1 to 1.5 tsp stuffing in it. Spread it evenly and press very gently to prepare the sandwich. Place this sandwich in a plate. Likewise prepare all paneer sandwiches and place them on a plate.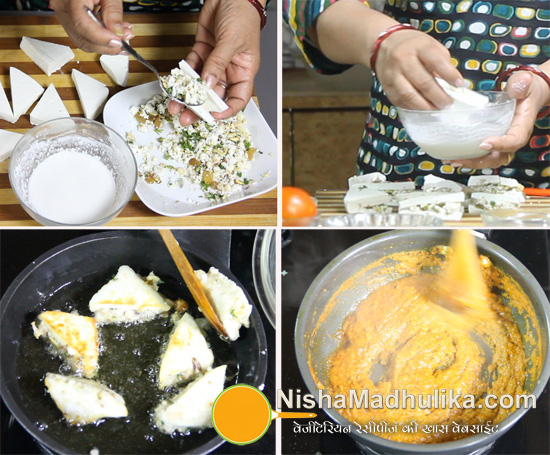 Fry Paneer Pasanda Sandwich.
Place some oil in a wok and heat it sufficiently. Take one paneer sandwich, coat it with ararot batter and close the stuffing nicely. Place the sandwich in oil for frying. Place 3 to 4 sandwiches in oil at a time and fry until they get slightly brown in color. Likewise fry all sandwiches. 
Prepare gravy for Paneer Pasanda
Cut tomatoes in big chunks, remove stalk from green chilly. Place tomatoes and green chilly in a mixture grinder and make a fine paste. 
Take some oil in a wok. When oil is hot, place cumin seeds. After sauteing cumin seeds for while add asafoetida, dry fenugreek seeds, turmeric powder, coriander powder and ginger paste into it. Saute the masala for while. Now add ground tomato-green chilly paste, red chilly powder and saute the masala on medium flame until oil starts floating from the surface. Oil has started separating from the masala now. 
Add cream in the masala and stir constantly until masala simmers again. Now add 1 cup water, garam masala and salt in masala. Also add some green coriander. When gravy simmers once, add paneer sandwiches into it. Turn off the flame now. Take out the sabzi from bowl and garnish with green coriander. Serve this tantalizing paneer pasanda sabzi with chapatti, parantha, naan or rice and relish eating. 
Suggestion:
You can make paneer pasanda gravy as per your taste as well. You can use cashews, melon seeds, poppy seeds, mawa for making the gravy. There is an article How to make Various Gravies, on the website for making various types of gravies. 
Paneer Pasanda Recipe Video in Hindi


Tags
Categories
Paneer Pasanda Recipe
Nisha Madhulika
Rating:

5.00

out of

5