Macroni Pasta Paratha recipes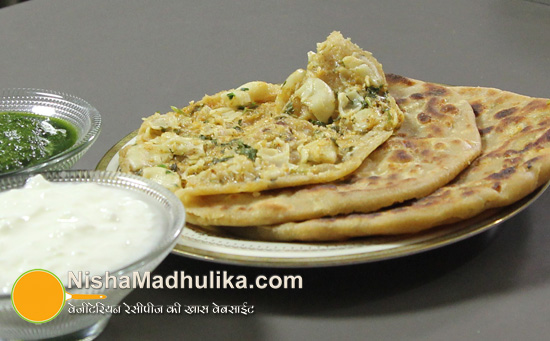 Kids relish eating macaroni a lot. Infact, they'll love eating stuffed macaroni parantha for sure. These tempting paranthas can be packed in lunch for kids.
हिन्दी में पढिये : Macroni Pasta Paratha recipes
Ingredients for Stuffed Pasta Paratha Recipe
For Dough:
Wheat flour- 2 cups (300 grams)
Salt - 1/2 tsp
Oil - 2 tsp
For Stuffing:
Macaroni - 1/2 cup (75 grams)
Boiled potato - 1
Oil - 3 to  tbsp
Green coriander - 2 to 3 tbsp (finely chopped)
Green chilly - 2 to 3 tbsp (finely chopped)
Red chilly powder - 1/4 tsp
Ginger - 1 tsp (grated)
Mango powder - 1/4 tsp
Salt - 3/4 tsp or as per taste
Cumin powder- 1/2 tsp
Coriander powder - 1 tsp
How to make Macroni Pasta Paratha recipes
Take flour in any big bowl and add salt and oil to it. Now with help of water, knead soft dough. Cover and keep aside the dough for 20 to 30 minutes to set. Dough for making parantha is ready. 
Take 2 to 3 cups water in any vessel and place it on flame for heating. When water starts boiling, add macaroni into it. Along with, add 1 tsp oil and 1/4 tsp salt as well. Boil until macaroni turns soft and do stir at regular intervals. Within 10 to 15 minutes, macaroni turns soft and ready.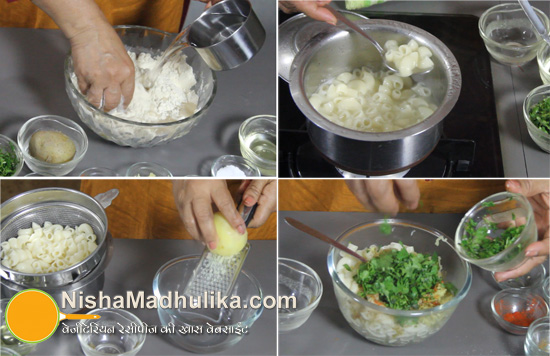 Once macaroni is cooked aptly, strain with help of a sieve. Peel and grate the boiled potatoes. Add macaroni, 1/2 tsp salt, red chilly powder, finely chopped green chilly, coriander powder, cumin powder, mango powder and finely chopped green coriander to the grated potatoes. Mix all the ingredients really well. You can even slightly mash the macaroni. Stuffing is now ready. 
Dough is set, grease your hand with some oil and knead the dough again. Place a tawa over flame and heat it sufficiently. Take a small lump from the dough and make a rough dough ball. Dust the dough ball with some dry flour and roll it out into 3 to 4 inch round sheet. Place 2 to 3 tsp stuffing over the rolled parantha. Lift the dough from all the sides, sealing the stuffing nicely. 
Gently press the stuffed dough ball with your fingers to flatten it. Dust the stuffed dough ball again with dry flour and roll out very gently in thick parantha.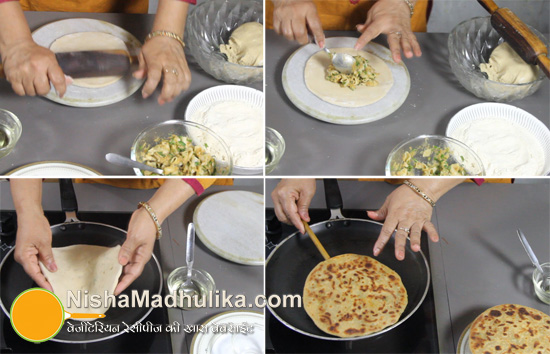 When tawa is hot, grease it with some oil. Place the parantha over tawa and when its slightly cooked from beneath, flip the side. Apply some oil over the other side of parantha and spread it all over. Again flip the sides and apply some oil over this side as well. Press gently with a spatula to roast. 
Roast until it gets brown spots on both the sides. Take off the parantha from tawa and place it over a bowl kept above a plate. Likewise prepare all paranthas. 
Piping hot macaroni paranthas are ready. Serve them with any chutney or sauce and relish eating. 
Suggestion:
If kids don't like eating chilies, then skip the use for this recipe. 
If you like eating onions, then finely chop 1 onion and add it to the stuffing. 
Macroni Pasta Paratha recipes - Stuffed Pasta Paratha Recipe

Tags
Categories
Macroni Pasta Paratha recipes
Nisha Madhulika
Rating:

5.00

out of

5