Sprouted Grains Salad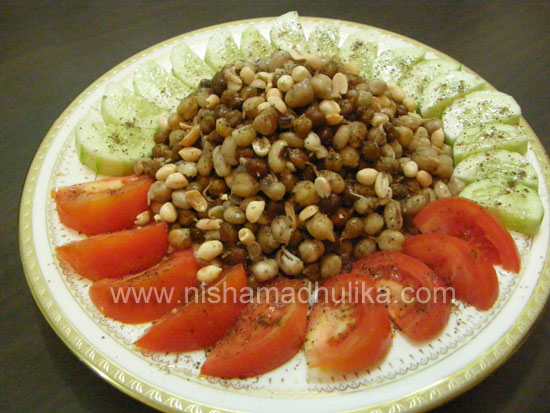 For making sprouted grains salad, we can use numerous lentils like Whole moong dal,  whole lobiya, whole desi chana, whole white chana, peas and mooth etc. Select any lentil as per your taste and sprout them to make salad very easily. 
हिन्दी में पढिये : Sprouted Grains Salad
Ingredients for Sprouted Grains Salad
Desi chana - 100 grams (1/2 cup)
White chana - 100 grams (1 cup)
Lobia - 100 grams (1/2 cup)
Moong dal - 50 grams (1/4 cup)
Ghee or butter - 1 tsp
Roasted peanuts - 50 grams (1/4 cup)
Cucumber - 1
Tomato - 1
Lemon juice - 1 tsp
Black pepper - 1/4 tsp
Salt - as per taste (1/2 tsp)
Green coriander - finely chopped (optional)
How to make Sprouted Grains Salad
Place sprouted chana and lobia in pressure cooker, add 1 cup water, salt and ghee to it. Place it on flame for heating. After it simmers, turn off the flame and lift the whistle so that steam escapes. With this the grains will not get over cooked. 
When all steam escapes, open the lid of pressure cooker and take them out in a separate bowl. If there is some water, take it out in a separate bowl and use it as a soup. Add peanuts, black pepper, lemon, tomato and mix well. Serve the salad on a plate. 
Salad is ready. You can have this for breakfast as well or serve along with your meals (lunch or dear)
You can increase or decrease any ingredients as per your taste. 
Roasted peanuts can be bought from market or you can microwave them yourself. Mix few drops of water in peanuts and microwave for 3 to 4 minutes. You can see that peanuts can be peeled easily, that means they are roasted. If not, then microwave for 2 more minutes. Peanuts are roasted, let them cool and then peel. 

Tags
Categories
Sprouted Grains Salad
Nisha Madhulika
Rating:

5.00

out of

5